Stradsett Rally
41st Stradsett Park Vintage Rally - Sunday 30th April & Monday 1st May 2017
For 2017 the theme will be spreaders, sprayers and 100 year old tractors.
There will again be steam engines, heavy horses and a Sunday night hog roast - see details below. Do not miss out on next year's rally and join our club now because all club members receive entry forms approximately 6 weeks before non-members so it pays to be a member of our great club, join now by emailing us on membership@nvtec-ea.org.uk.
Just a reminder that dogs are allowed as long as they are on a lead and their owners clear up after them.
The 2016 rally raised money for The BREAK Charity. They are a registered charity which has been providing a diverse range of specialist residential and community based services for vulnerable children young people and families across East Anglia for over 40 years..
East Anglian Air Ambulance Website
New For This Year: Mini Tractor Pulling
Again for 2017 is the Sunday night hog roast (ticket only). Please could you let us know if you would like tickets for the hog roast which is served with baked potatoes, fresh salad, homemade coleslaw, bread rolls and butter, sage and onion stuffing, butchers best sausages, Heinz baked beans and accompanying sauces followed by a fine selection of gateaux's, cheesecakes and fruit pies all of which for just £10.00 per head. The hog roast company will arrive on site 7 and a half hours before serving the hog roast so they can cook it fresh on site to ensure the best flavours and the highest health and hygiene standards. It will be served on disposable plates with disposable cutlery from 7:00pm until 9:30pm in a buffet layout so you can have exactly what you want and then go back for seconds or even thirds. There will be a vegetarian quiche as an alternative if you prefer. This should be a perfect addition to the weekend and a great meal to enjoy whilst being entertained by 'Perfect Vintage' a vocal duo singing all your favourite hits from the 1950's and 1960's. Nostalgia at its best. All at the main marquee where UK Bars will be more than happy to serve you and provide tables and seating.
Please send payment with your entry form to the relevant steward and make cheques payable to NVTEC-EA. Your tickets will then be given to you when you check in.
Go on treat yourself. Find us on Facebook/StradsettRally or follow us on Twitter @Stradsett_Rally
Alternatively, email us on stradsett@nvtec-ea.org.uk for more information about this years rally.
10am – 5pm daily - Adult – £7.50 Children – FREE (if accompanied by an adult)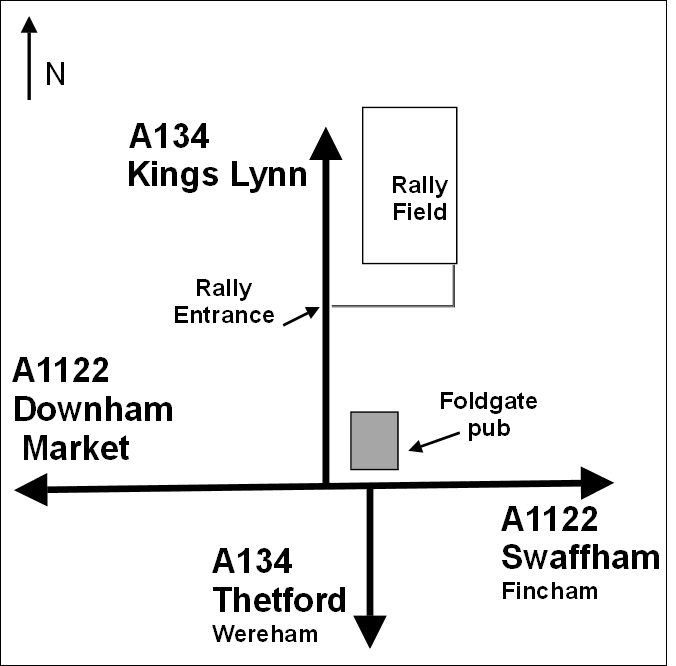 We are very fortunate to have the superb setting in Stradsett Park which
 is located at Stradsett Park, Stradsett, Kings Lynn Norfolk, PE33 9HA where the A134 crosses the A1122 just east of Downham Market and it will be signposted.
Click Here To Download A Stradsett Rally 2017 Entry Form